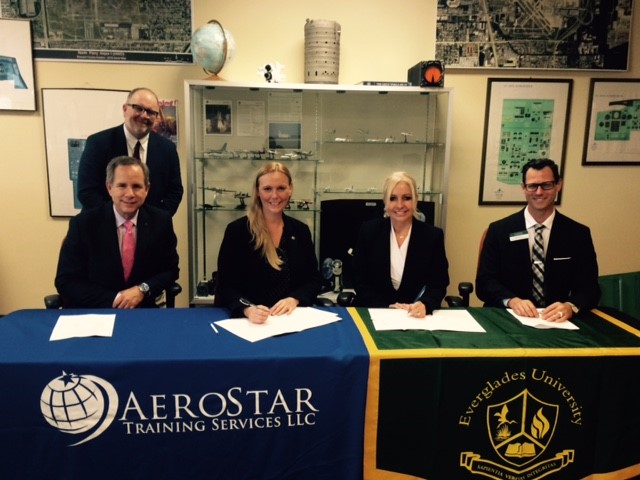 Everglades University and AeroStar Training Services are celebrating their new partnership. EU and AeroStar have signed an articulation agreement to allow students who have successfully earned FAA certificates to easily transfer those certificates for college credit into Everglades University's Bachelor of Science Degree with a Major in Aviation/Aerospace. This articulation agreement provides many future opportunities for collaboration to improve employment prospects for EU a…nd AeroStar students, as well as help support the aviation industry worldwide.
AeroStar, based in Kissimmee, Florida, uses a uniquely conceived training program that can guide students with no flight experience to being commercial pilots in as little as 12 to 18 months. AeroStar also offers state-of-the-art flight simulators that can allow students to become type-rated in the Airbus A320 and Boeing 737, two of the most commonly used commercial aircraft in the world.
Everglades University signatories were President and Chief Executive Officer Kristi Mollis, and Vice President of Academic Affairs, Jared Bezet. AeroStar was represented at the signing by their Chief Executive Officer, Deidra Toye, Chief Training Officer, Captain David Santo, and Director of Admissions, P. Jerry Lee.