For the fourth consecutive year, Kristi Mollis, President of Everglades University, has been selected as a top 10 not-for-profit honoree for women-led businesses in Florida. The Commonwealth Institute (TLC), a non-profit organization devoted to advancing businesswomen in leadership positions, compiled the list through a study that looked at the characteristics of female leaders.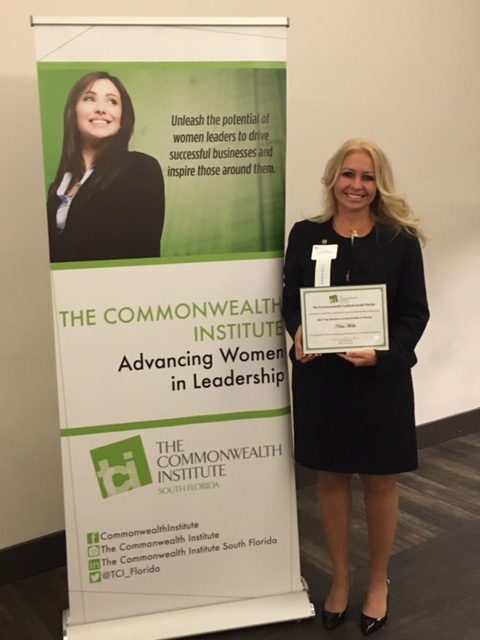 "It is an honor to receive this distinction amongst such an accomplished group of businesswomen," said Mollis. "I am proud to be recognized by an organization that is driven by a mission I am passionate about."
President Mollis has been the President of Everglades University for over 15 years and was named the South Florida Business Leader of the Year for Education in 2012. Everglades University is regionally accredited by the Southern Association of Colleges and Universities (SACS) and a member of the Independent Colleges and Universities of Florida
(ICUF). Everglades University has five campuses located in Boca Raton, Orlando, Tampa, Sarasota and an Online Division.
President Mollis has also served as a Commissioner for a USDOE recognized accrediting agency and participated in over 30 on-site reviews as a team leader for both the Southern Association of Colleges and Universities (SACS) and the Accrediting Commissions of Careers Schools and Colleges (ACCSC). She was named team leader of the year in 2007 by ACCSC.
Everglades University-President Kristi Mollis with the 2017 Commonwealth Award
The TLC will announce the rankings with a countdown to #1 at its 12th Annual Women-Led Businesses in Florida Luncheon & Awards Ceremony on Thursday, May 18 from 11:30 a.m. to 2 p.m. at Jungle Island in Miami. In addition to networking, awards and recognition, the event will include an extraordinary panel of women sharing their thoughts.
A list of the Top 50 Women-Led businesses and Top 10 Not-for-Profit organizations can be found here. The list will be accompanied by profiles of some of the respondents and an analysis of what it takes for a woman to make it to the top.
About Everglades University: Everglades University has been accredited by the Southern Association of Colleges and Schools Commission on Colleges since 2010. Everglades University is a private, not-for-profit university offering bachelor's and master's degree programs that prepare students to advance in their careers or fields of study. With small class sizes, innovative degree programs, and convenient on-campus and online class schedules to accommodate working students and adult learners, Everglades University is committed to student success.
The university provides relevant degree programs to meet the demands of the evolving job market, which is a result of our partnerships with industry professionals. U. S. Green Building Council and Everglades University are weaving the principles of sustainability, green building, nutrition, and environmental consciousness into its undergraduate degree programs.