Everglades University has recently announced a partnership with Dallas-based Parker University. Students who wish to continue their education in chiropractic care will now have a clear path towards a successful career in chiropractic wellness. From undergraduate courses at Everglades University straight to Parker University's Doctor of Chiropractic program, students will gain the education and skills they need to become leaders in the field.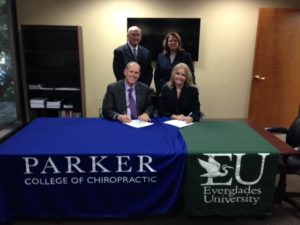 Parker University focuses on providing students with opportunities related to healthcare, specifically in the realm of chiropractic. Parker has two chiropractic wellness clinics in addition to their research institute. The research institute includes the Parker Seminars, the largest chiropractic seminar organization in the world, and the Parker SHARE products, which provides innovative products and current information on chiropractic wellness to professionals in the field.
The Doctor of Chiropractic program at Parker University prepares students for a career in chiropractic wellness, focusing on biology, chemistry and the physical sciences. "Parker University has a long tradition of providing opportunities to students interested in pursuing successful careers in service and healthcare through chiropractic," says Dr. Brian McAulay, President of Parker University. "Everglades' students who complete the Doctor of Chiropractic program are going to be a tremendous asset to patients and communities in need of dedicated and compassionate healthcare professionals."
Both Everglades University and Parker University are accredited by the Southern Association of Colleges and Schools Commission on Colleges. Everglades University offers students a well-rounded education in a variety of health-related fields. Fostering their students' dedication to learning, Everglades is happy to give them this added opportunity. "We believe in fostering a collaborative environment in which student learning can flourish," says Kristi Mollis, President of Everglades University. "This will make an excellent complement to Parker's community-based programs."
For more information about Parker University's Doctor of Chiropractic program, visit parker.edu or call Everglades University at 888.854.8308.